Companies offering cleaning services in Chennai have increased after the Covid pandemic.
Service Square is one of the many companies offering an array of deep cleaning services in the city.
With competition, quality and customer service keep improving.
So, this is a happy situation for customers looking for home cleaning services in Chennai.
Every customer gets to pick – what she or he wants.
Those who want the most basic services at very low rates find their pick.
And those who care for quality even at premium rates get their pick as well.
Those who are looking for top-notch quality plus experiential services too find who they are looking for – after some search.
When the choices are many, it is not easy to identify the best cleaning service provider for you.
This post is intended for ambitious executives who will settle for nothing but the best cleaning service providers in Chennai.
They want to save time. And put the saved time to productive use. And invest quality time with family as well.
The ideas given below might help them narrow down on the best cleaning companies in Chennai.
Which are the really great deep cleaning service providers in Chennai?
There are of course good cleaning service providers in Chennai out there. But how do you find out, which of these will match your requirements and expectations?
The best route to finding the right choice is to satisfy yourself concerning the 7 following parameters that contribute to the making of great deep cleaning services.
1. Social Proof – What customers say on Google and other digital platforms.
When you invest hard-earned money in cleaning your homes or offices, the first thing to look for is a service provider with great reputation for service and reliability.
But, how do you find out about these attributes?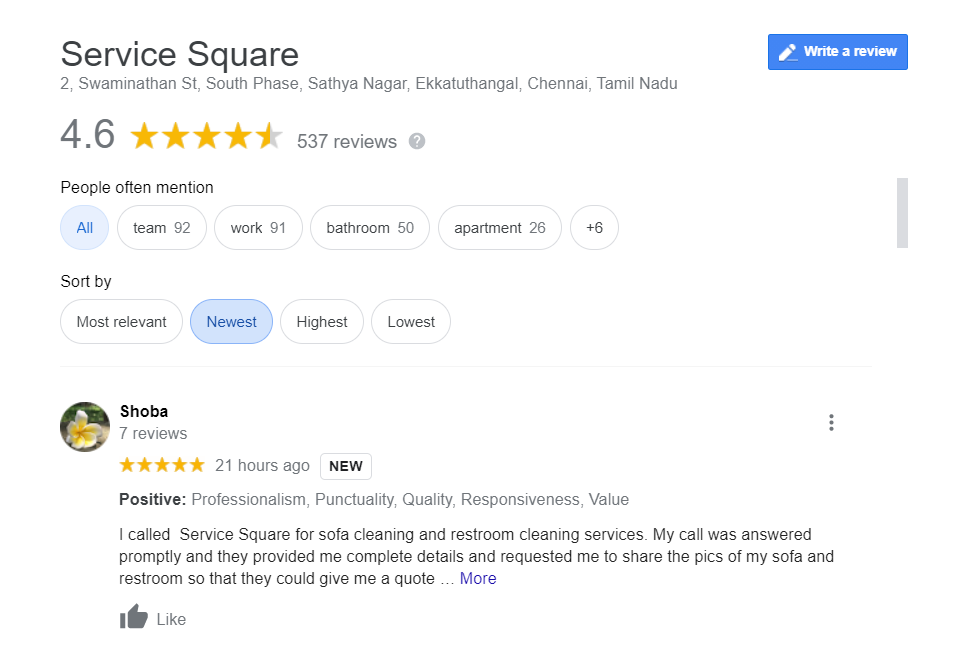 The smartest way is to look for Google Reviews. The quantity and quality of reviews are big indicators of the genuineness of the cleaning service provider.
With your discerning power, you will be able to easily sift the genuine reviews from the fake ones.
Service Square has more than 620 reviews from two locations in the city, with an average rating of 4.6 out of 5.
In terms of numbers, this is far higher than what any other service provider (not counting the aggregators) in the deep cleaning space has managed to muster.
These reviews stand out because customers who have used the services speak with so much of passion and warmth about their experience of the service.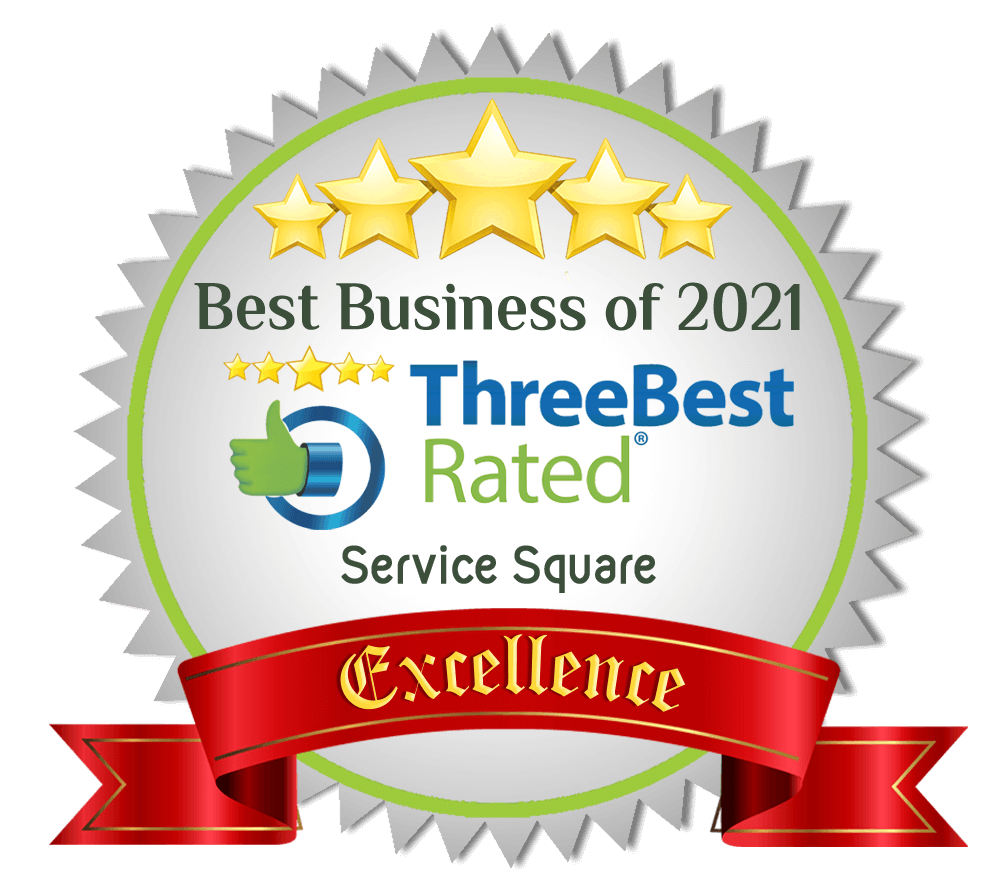 Apart from the reviews from various sources, you can also find out what rating agencies say.
Three Best Rated is an independent international agency dedicated to rating the services of the three best service providers in different service categories, based on various parameters.
During the last four years, Service Square has been awarded the certificate of excellence and the pride of the first position in the category of "cleaning services in Chennai."
2. Look for companies that are obsessively passionate about Quality.
You may be treated like a king, and provided the comfort of cutting-edge technology, but if you are not provided quality then you are left with a bitter taste in the mouth.
Some service providers rush, as their focus is on completing as many jobs as possible.
The deep cleaning service providers whose priority is on quality rather than quantity go about their work mindfully, ensuring that every nook and corner of the house or office is spotlessly clean.
Their work is their way of showing their art.
At Service Square, when it comes to cleaning services, the entire company stands behind the customer. No shortcuts are permitted in the delivery of quality services.
Systems are also in place – as given below – to ensure that quality is never compromised.
If customers are not happy with any part of the work done by Service Square cleaning technicians, the work is redone free – no questions asked.
All that the customer needs to do is raise an issue about the service, along with some photographs, within 3 days of completing the service.
Service Square does not collect service charges up-front. This is done for two reasons.

One, the cleaning technicians do not fall into any false sense of complacency.
Two, to reinforce the point that service comes first. And then, money.

Freshers are never sent alone to handle any service, whether it is bathroom cleaning services or kitchen cleaning services in Chennai.
This is how Service Square provides you a value that is priceless – much higher than the price you pay.
3. Look for home cleaning service providers known for their high level of customer service.
Nowadays, many customers expect service features going beyond quality. They expect experiences where they feel their needs have been addressed with empathy and care.
They are no longer interested in transactional services – involving only exchange of money for services rendered.
Experiential services happen when services are rendered respecting the precise needs of customers – with empathy and understanding.
Understanding Customer Needs by listening to them during inspection before work
Most home cleaning services in Chennai book services on their Apps or over the phone, without bothering to understand the condition of the home to be cleaned or the precise scope of work.
It is not doing justice to customers when they are provided one-size-fits-all services.
At Service Square, most deep cleaning services are confirmed only after inspecting the place to be cleaned – even if the place is very far away.
Inspecting a place physically is important because:
The inspection helps the team to better understand the scope of work and give an accurate quote for the service.
Besides, each customer has a story, why he or she wants to do home cleaning services. Inspection before the service gives customers the opportunity to share that story and for the company representative to hear that story.
For small works like toilet cleaning, kitchen cleaning, or sofa cleaning in Chennai, services are finalized after viewing pictures sent by customers.
When it comes to bathroom cleaning in different parts of Chennai, all bathrooms are not the same.
In some areas on OMR, Pallikaranai, etc., most toilets have very thick scale formations. Different cleaning materials are needed to clean them. And it takes at least twice as long to clean them.
Understanding the scope of work either by physical inspection or by looking at the pictures, helps provide the cleaning service that best addresses customers' problems.
How a Logo has defined and cemented the company culture of customer focus
Service Square logo and its tagline define the commitment to customer service.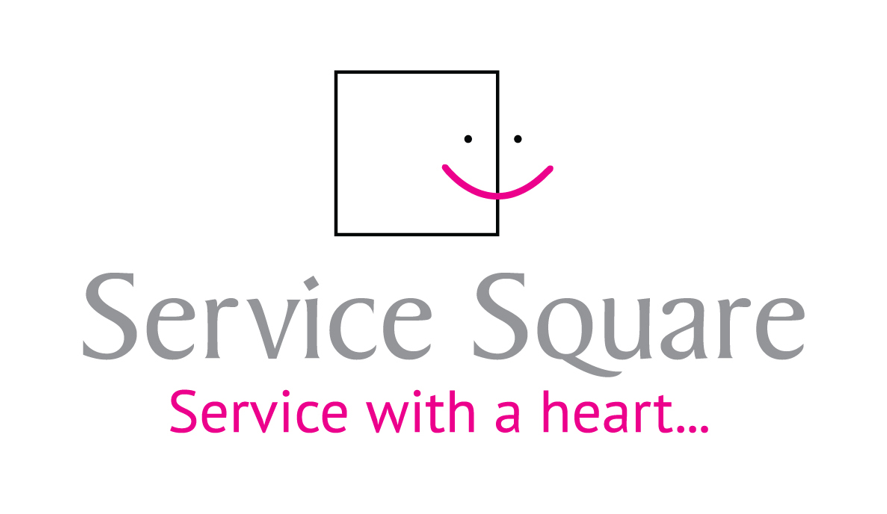 The logo represents a smiling face – one inside and one outside the Square. What it signifies is a happy team within the company bringing a smile on the face of its customers through services delivered. The tagline says – Service with a heart.
Putting a smile on the lips of customers by providing service with a heart is embedded in the culture of Service Square.
4. Look for systems and processes practiced by cleaning service providers.
Processes are the backbone of operations – whether they relate to cleaning services or any other type of service.
Systems and processes help companies to stay true to their commitments concerning quality and customer service.
When the steps – starting from inspecting the customer's homes to taking their feedback after completing the service – are held as sacred, operations happen as a flow. And there are no hiccups.
At Service Square, the processes are called rituals. They are sacred because they have to be followed religiously. And, they give clarity about the order of the steps to be taken.
5. People make a difference. Look for cleaning service companies with great people.
Perhaps, the People factor should have come first among the requirement to identify a great cleaning service in Chennai.
Without the right people, it is impossible to implement systems and processes, care for customers, or ensure quality.
They are the backbone of any company.
When they are happy, they make customers happy by stretching to unimaginable levels.
At the end of deep cleaning services, several customers make it a point to tell how Service Square is lucky to have a team of dedicated staff.
In several of the Google Reviews, customers have made it a point to appreciate cleaning staff individually by name.
Service with a heart cannot be translated into action without the whole-hearted support and enthusiasm – particularly of the cleaning technicians.
They work without a fuss, silently. Even when they have to extend their work late into the evening or even night, they do so with a smile.
At Service Square, each staff is treated with respect.
And they command the respect of customers on account of the way they work and the transformation they bring to the homes of customers.
6. Importance of using the right cleaning materials and tools.
A. First, cleaning Materials used.
Cleaning materials used by cleaning service providers in Chennai make a lot of service to the outcome of the cleaning.
Find out from them if they use acid in cleaning particularly toilets.
Acids have a corrosive effect on the surfaces cleaned. During the initial one or two cleanings, a toilet will look sparkling clean once it is cleaned with acid. The cleaning of the bathroom also will be done very fast.
But from the third or fourth wash, the shine on the tiles begins to disappear as the glaze on them have gone forever. From then on, they look dull and it becomes increasingly hard to clean them.

Acid is also harmful to the health of the people living in the home.
Professional cleaning service companies do not use the same cleaning material for all purposes. It is ideal to use separate cleaning materials for taps, another for removing grease in the kitchen…. for cleaning floors….. for cleaning glasses, etc.
Some service providers use a single multi-purpose cleaning material for all purposes to save on costs.
Another factor to delve into is the quality of cleaning materials and their manufacturers. Do they contribute to creating a sustainable ecosystem? This is a question you must always ask.
After years of search, Service Square has narrowed down on cleaning products that are environmentally friendly and which do not damage the surfaces cleaned.
B. Cleaning Tools used by cleaning services in Chennai.
The tools and equipment used by home deep cleaning service companies play a very crucial role in effectively cleaning your homes.
The right tools clean better and faster.
Most of the cleaning tools used by Service Square are from Unger, the German company recognized as the world leader in the field of cleaning products.
Deploying the right tools ensure that the cleaning is done in a hygienic manner.
For example, the color-coded dry and wet mops used by the cleaning technicians at Service Square are always taken to customers' homes absolutely clean.
The mops and microfiber cloths used in cleaning are machine washed after each use. So, there is no danger of inviting trouble into your home through the use of unhygienic or unclean mops and microfiber cloths.
Colour coding ensures that germs and bacteria from one part of the house do not get transferred to another part of the house.
This is how color-coding is implemented in the cleaning process at Service Square.
• Red mops, microfiber cloths are used exclusively in toilets.
• Yellow microfiber cloths are used for cleaning taps, mirror etc in toilets.
• Green mops, microfibre, and cotton cloths are used only in kitchens.
• Blue mops, microfiber, and cotton cloths are used in halls and bedrooms.
7. Is your cleaning service provider value-centered?
Without values, none of the preceding 6 factors characteristic of a great deep cleaning service company will be realized.
The culture in an organization is governed by the values it practices and promotes.
And culture plays an important role in almost all aspects of the organization's performance and growth.
The values are what guides Service Square – to be on the straight path.
This is also the reason why customers trust the deep cleaning services provided by Service Square in Chennai.
Some honest admissions…..
It will be presumptuous to claim that Service Square is the right choice for everyone when it comes to home cleaning services or office cleaning services in Chennai.
Because it is pointless pretending to be everything to everyone.
For example, however much we try, Service Square does not satisfy a lot of people when it comes to price, despite the best efforts.
It is important to acknowledge that there is room enough for other service providers whose priorities are different and who approach housecleaning services, in a different way.
There is a learning curve for every cleaning service in Chennai. Service Square has gone through those phases and respects the journey every company is going through.
Service Square too is still learning and continuously evolving.
Generally, customers who use Service Square cleaning services are ambitious executives who need a clean, enabling environment to thrive. Especially these days, when work-from-home is very common they need the calm influence of a clean, elegant home to be productive.
At the same time, they know the value of the time they save by entrusting the deep home cleaning chores to a company they can trust. And, time is money.
The high standards and values expected by Service Square customers are partly the reasons for its evolution into what it is today.
It is wonderful when the values of the service provider and the customer are in alignment.
In such situations, something close to an alchemy or deep kinship forms and builds – between the customer and the service provider.
Seth Godin, the iconic marketer describes the reason for this special relationship in this way:
"People like us do things like this."