Sofa Cleaning Services in Chennai
Get the brightness back to your sofas by shampoo cleaning.
Dust, germs, food crumbs, stains and blemishes give your sofas and upholstery a dull, unclean look. They are often eyesores in an otherwise beautiful home. And, with kids or pets the problem is more serious.
Sofas that have dark oily patches around the head rest and the arm rest areas are also common sights in homes and offices. Apart from the health issues from using such sofas, they also are eyesores.
But now, you need not live with this unwholesome look. Service Square will provide you with thorough upholstery cleaning extending the life of your furniture.
Once we clean deep into the pores of your upholstery, you will be back to enjoying your renewed, brighter sofa or carpets in no time. Our cleaning process for upholstered sofas and carpets is safe for your entire family and dries fast. 
What our cleaning does is, the efficient cleaning materials we use break up the dirt and grime trapped deep within the fibers of your upholstered furniture so they can be easily removed, using high power vacuum machines.
For sofa upholstery shampoo cleaning our team follow the process, as given below.
First, the upholstery is scrubbed with a dry brush to loosen the dirt embedded in the sofa. The dust is then removed using a high-pressure vacuum.
After this, our sofa cleaning & sofa shampooing expert apply rich lather made from high power sofa shampoo. He begins by spot testing the shampoo solutions on a small, inconspicuous area of the material before applying it on the rest of the sofa.
After confirming that the upholstery is colour safe, the solution is then scrubbed with a brush so that the shampoo penetrates into the upholstery. After a little while, using a wet vacuum, the loosened dirt from the sofa is removed.
If the sofa has too much of accumulated dirt or stain, the process is repeated, once or twice more.  
After shampooing the sofas, they are then allowed to dry outside under the hot sun preferably. If that is not possible, dry them under the fan, the windows open.
Let your style statement reflect in your sofa. Get it cleaned the Service Square way.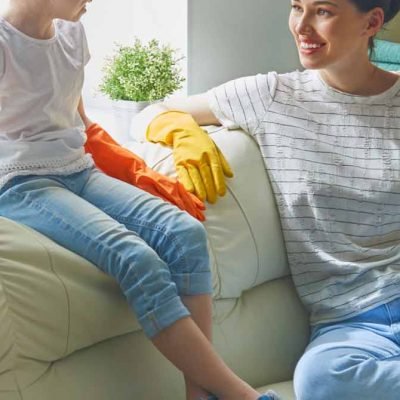 Our cleaning method and products works perfectly with all types of upholstered furniture materials – whether they are made of leather, rexin or fabric. We clean not only sofas, but also office chairs and other types of furniture.
The cleaning materials used on leather and rexin sofas are different from what we use on fabric.
After cleaning the leather or rexin sofa thoroughly, our leather sofa solution is applied on the sofa cleaning with a clean micro fiber cloth and wiped till it gets back its shine. 
Get the brightness back to your sofas by shampoo cleaning. Get in touch with us for more details about the shampoo cleaning service you require.
Fill up the form and let us get in touch with you
For Marketing and Business Enquiries: